"AGB GERALDS of BELARUS TROPHY"
Trophy may be applied by all stations who have contacts with Belarus towns and places having old geralds.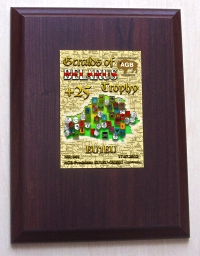 GERALDS BELARUS
TROPHY for +25 geralds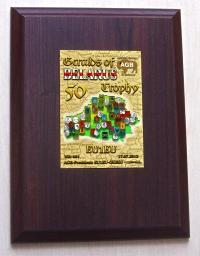 GERALDS BELARUS
TROPHY for 50 geralds
The list of places:
 Babinovitchi, Belitsia, Bobruisk, Borisov, Braslav, Brest, Bykhov, Vileika, Vitebsk, Volkovysk, Geraniony, Gomel, Gorodnaia, Gorodok, Grodno, David-Gorodok, Disna, Doksitsy, Drissa, Druia, Igumen, Kamenits, Klimovitchi, Kobrin, Kopyl, Kopys, Kritchev, Lepel, Lida, Lipnishky, Logishin, Lubtcha, ?altcha, Minsk, Mogilev, Mozyr, Mstislavl, Nesviz, Novogrudok, Orsha, Oshmiany, Perebrodie, Pinsk, Polotsk, Postavy, Pruzany, Radoshkovitchi, Retchitsa, Rogatchov, Senno, Slonim, Slutsk, Surazh, Tchausy, Tcherikov, Shereshiov, Shklov.
For every additional 5 towns you can get Award - "GERALDS of BELARUS 10", "GERALDS of BELARUS 15", "GERALDS of BELARUS 20", "GERALDS of BELARUS 25" ...
On added awards on which various ancient maps of Belarus are represented, VKL (Grand Duchy of Lithuania), Teutonic lands, Baltic, Lithuania, Latvia, Poland and Moskovia. These ancient maps from various museums and archives of Europe, and these Diplomas an example of research work of Igor Getman of EU1EU-OK8EU.

And also for the Additional 25 cities can receive Trophy - "GERALDS of BELARUS TROPHY +25". For example, you are a inhabitant of Europe, and you received the Basic Award for 10 cities. Trophy +25 you means can receive for 35 cities (10+25).

And also there is Troffi for 50 cities "GERALDS of BELARUS TROPHY 50" having the old heraldic. No value, you are a Inhabitant of Belarus, Europe or other continent in this case has. You must have QSO with 50 cities having the ancient coats of arms (look the list).
http://www.ev5agb.com/award/award_ger_bel_e.htm