Rules
Worked with all administrative regions of Belarus (near 150 regions).
Award may be applied by all station who have contact with different administrative regions of Belarus.
| | |
| --- | --- |
| Belarus station | 30 regions |
| EU stations | 14 regions |
| DX station | 7 regions |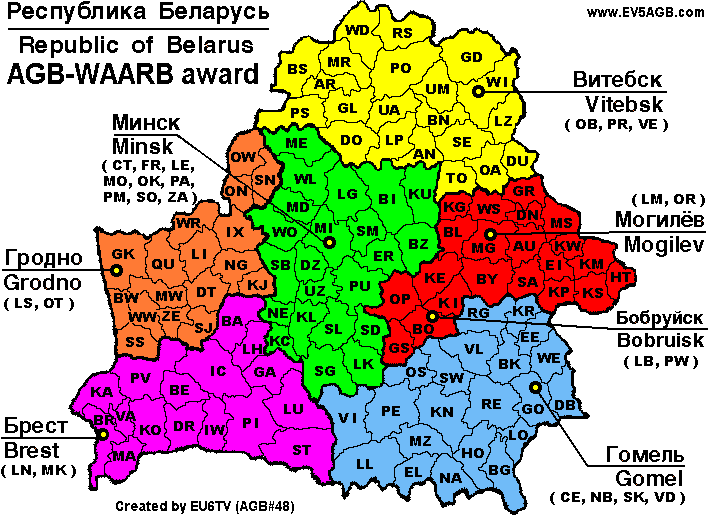 You can get additional Award for every additional 10 administrative regions.
"WAARB +10"
"WAARB +20"
"WAARB +30"
"WAARB +40"
"WAARB +50"
...
Application-forms for WAARB award
in format MS WORD and also in format Acrobat PDF
TNX for Vladimir UY0UY AGB#306 - created this form.
---
 Your application (or GCR-list - (General Certification Rule)) with confirming of two amateurs radio and fee (10 US$ / 8 EURO) send to AGB Award Application manager (List of managers - you can see on this page).
You can Pay by WebMoney
money order in USD to Z337208268992

money order in EUR to E287053310064

money order in RUB to R999686136671

money order in USD to Z201789360744
with comments "for NAME-AWARD-award from YOUR-CALL"




For applications from Europe,
and outside Europe :

---
You can use PayPal
---
You also can receive AGB awards in alternative version. This in electronic form in the PDF format. For this purpose you should issue the application in the GCR format to send to AGB manager. After confirmation of your application you must to make transaction by PayPal - 3 usd for each award. Obtaining alternative awards possibly only via email and transactions only by PayPal.
Address for Application
All amateurs radio can have AGB awards (and SWLs also). Your application (or GCR-list - (General Certification Rule)) send to Igor OK8EU-EU1EU ( This email address is being protected from spambots. You need JavaScript enabled to view it. or This email address is being protected from spambots. You need JavaScript enabled to view it. )

or via AGB Award Application managers:


Remigijus Vaicius, LY8O (ex LY2MW), P.O.Box 1029, Vilnius 2000, LITHUANIA

Jaroslav Rossler, OK1BZ, ul.Vetrna 2716/8, CZ 40011, Usti-nad-Labem, Czech Republic

Special for Russia => Valery Sorokin, RA3LZ, p.o.box 10, Viazma 215110, Smolensk Region, Russia

If you have any questions - send email for Igor EU1EU-OK8EU ( This email address is being protected from spambots. You need JavaScript enabled to view it. or This email address is being protected from spambots. You need JavaScript enabled to view it. )